The chargepoint operator Fastned has been recognised as the 'Best EV Charging Network' for 2023 by chargepoint mapping service, Zapmap.
Part of Zapmap's annual satisfaction rankings for high-powered en-route public charging networks conducted in October 2023, the survey saw respondents rate their overall satisfaction for their charging networks, ranking their satisfaction out of five stars according to five key areas: reliability, ease of use, customer support, value for money and payment options.
This year, for the first time, Zapmap has split network rankings into two sets: en-route (rapid) charging and destination chargers, with results for the latter network rankings to be announced this week.
Fastned was awarded this year's top position, with particularly high scores received for the network's reliability and ease of use, earning the company an overall rating of 4.5 stars out of 5.
The chargepoint operator's chargers were highlighted as "excellent" with particular attention paid to its "reliable and decent charging" experience.
Fastned currently has over 60 ultra-rapid chargers and 30 rapid devices across the country, making it a smaller player than some other operator's on this year's league table. This is changing however, as Fastned has expanded its UK network by 50% already this year.
This September Fastned, announced its first chargepoint infrastructure in the South West of England – a charging hub in Wiltshire, featuring six 300kW ultra-rapid charging bays with the capacity to expand to eight.
"We are absolutely delighted that EV drivers have voted us the UK's favourite EV charging station for the second year in a row," said Tom Hurst, UK country manager at Fastned.
"It's a real recognition of the importance of providing EV drivers with the quality charging experience they deserve. Our hardworking and passionate team are now firmly focused on ensuring you can see even more of our distinct yellow canopies soon.
"These ratings send a strong signal to local authorities and grid operators that ultra-rapid EV charging is here to stay in the UK. And that it can go from strength to strength with the right support."
MFG EV Power and Ospery Charging received second and third place respectively, both earning the 'EV Driver Recommended' titled by Zapmap for the 2023-24 rankings.
In the lower rankings, bp Pulse and GeniePoint swapped places to 10th and 11th respectively, according to Zapmap, their positions were affected by lower scores in terms or reliability and ease of use, which Zapmap added "both operators are working hard to improve upon."
"This year has seen continued growth in the number of new electric cars registered, and in parallel significant growth in the charging infrastructure that many drivers depend upon," said Melanie Shufflebotham, co-founder and chief operating officer at Zapmap.
"The results of our annual EV survey highlight that for many EV drivers availability and reliability of chargers remain a concern. That's exactly why these rankings and our 'Best EV Charging Network' accreditations are important. They provide feedback directly from EV drivers and act as a solid indication of which networks are more dependable.
"Splitting the rankings into two categories reflects the growing nature of the market, with many more players and more specialisation, so it makes sense to compare similar networks.  
"Going forward we hope that all the charge point networks will continue to focus on providing both more chargers and a reliable, easy-to-use charging experience for EV drivers."
The full list of rankings can be found below: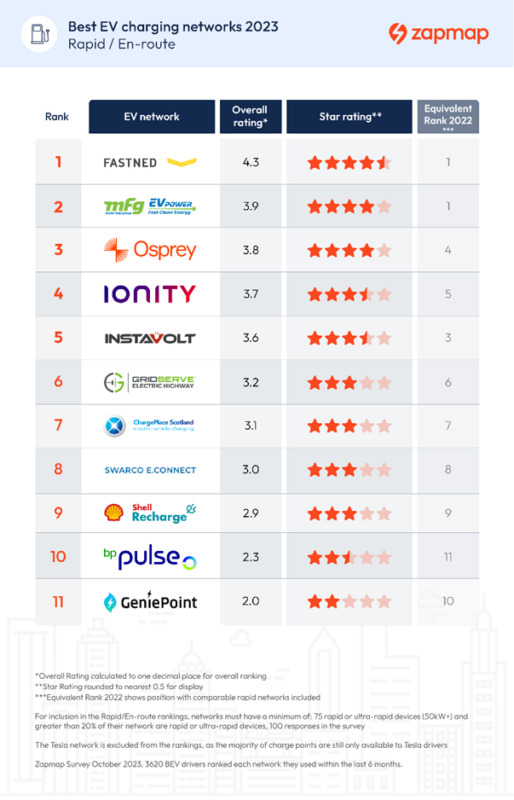 This year's Electric Vehicle Innovations and Excellence (EVIE) Awards hosted by our publisher, Solar Media, will take place at The Brewery in London on 21 November 2023. Individual and table tickets for the EVIEs 2023 ceremony are now available to purchase on a first come, first served basis. All booking information can be found here.